Marianne Trudel is a multi-talented pianist, composer, improvisor, and arranger. A generous and engaging artist, a veritable powerhouse in Quebec and Canada's music scene, Marianne Trudel has presented multiple artistic projects that not only bring her considerable skills to the fore but also her keen sense of creativity.
At once energetic and passionate, her music cross-cuts a wide swath of musical interests. Her moving, spellbinding music is at once sophisticated and catchy, authentic and unique. As a performer, she pursues an active career in a variety of settings ranging from solo performance to: Trudel—Hollenbeck, Trudel—Young, Trifolia, Marianne Trudel 4 + Ingrid Jensen, and large ensembles. She has presented her music in 15 countries around the world, always received with great enthousiasm by the audience.
New Project: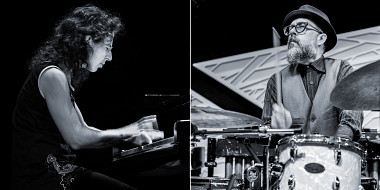 HD Version
Marianne Trudel — John Hollenbeck: Dédé Java Espiritu
A piano, a drum set, a thousand ideas. The happy and highly creative encounter of pianist and composer Marianne Trudel with drummer and composer John Hollenbeck.
"… an album of such refinement, liberty, respect, quality…" — Sylvain Cormier, Le Devoir (Québec)
"Both sides now: a stunning moment, delivered with great emotion, that we would have liked to have last forever." — Normand Provencher, Le Soleil (Québec)
Upcoming Events
Date
Time
Description
Location
Mar 28, 2023
7:30 pm
McGill Jazz Orchestra 1
Montréal, Québec


Maison de la culture Janine-Sutto

Apr 5, 2023
7:30 pm
McGill Jazz Orchestra 1 — Teachers and Students: a Living Force
Montréal, Québec


Salle Tanna Schulich — Pavillon de musique Elizabeth Wirth — Université McGill

Apr 15, 2023
7:00 pm
Hommage à Djavan
Montréal, Québec


Upstairs Jazz Bar and Grill

Apr 15, 2023
9:30 pm
Hommage à Djavan
Montréal, Québec


Upstairs Jazz Bar and Grill

Aug 5, 2023
7:30 pm
Festival Saint-Michel en jazz 2023: Marianne Trudel et Karen Young — Portraits: chansons de Joni Mitchell
Saint-Michel-De-Bellechasse, Québec


Église Saint-Michel-de-Bellechasse